This Way, Please: A Cure for Hospital Signage
New strategies for healthcare wayfinding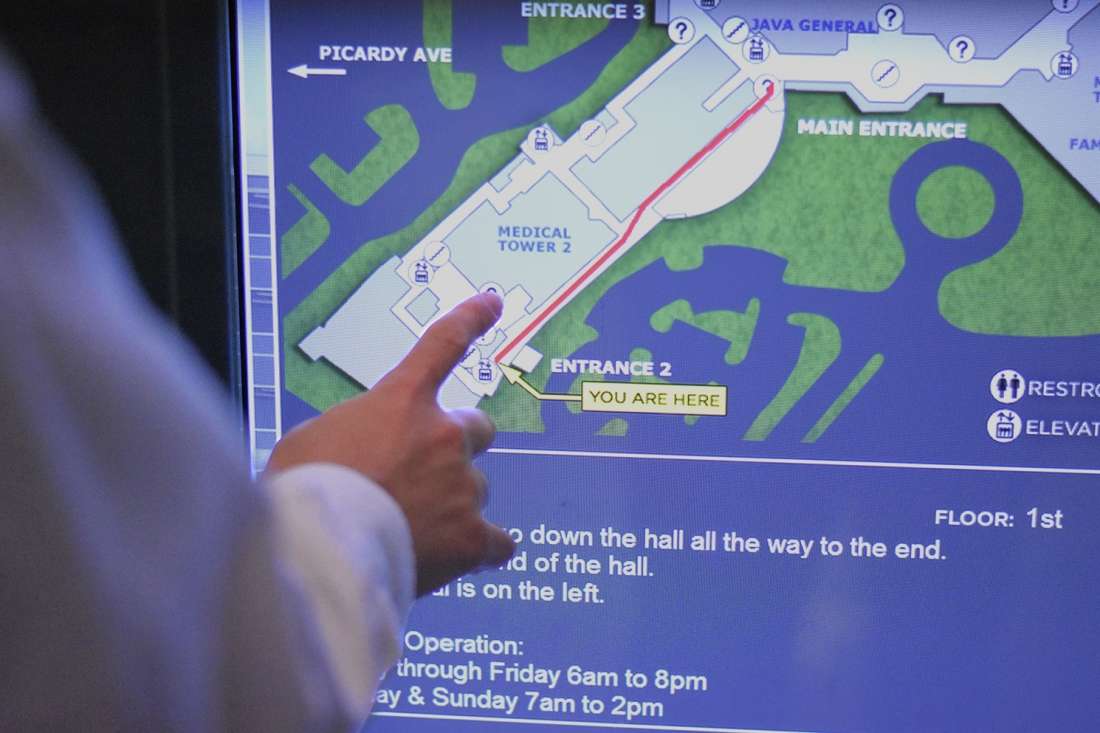 "Hospitals are often criticized as being maze-like and challenging to walk around, but they typically don't start out that way. With additions and renovations over time, they can become quite confusing to the public."Rick Lipscomb
How do I get there from here?
Finding your way around in a new place can be difficult, but for many patients, finding their destination in a hospital today presents a special challenge. Patients want to know where they are in the hospital and where they are headed. This desire to be better oriented within a hospital was ranked #9 in the patient wish list published recently in the US News and World Report. Unfortunately, patients and family already stressed over doctors' visits, procedures, medications and tests associated with their care, often find the act of navigating through a large hospital only heightens their anxiety. No hospital sets out to make their facilities difficult to navigate, but they are often faced with the dual challenge of needing to expand their facility to provide services to the community, while also making it easy for anyone to find a specific department within the hospital.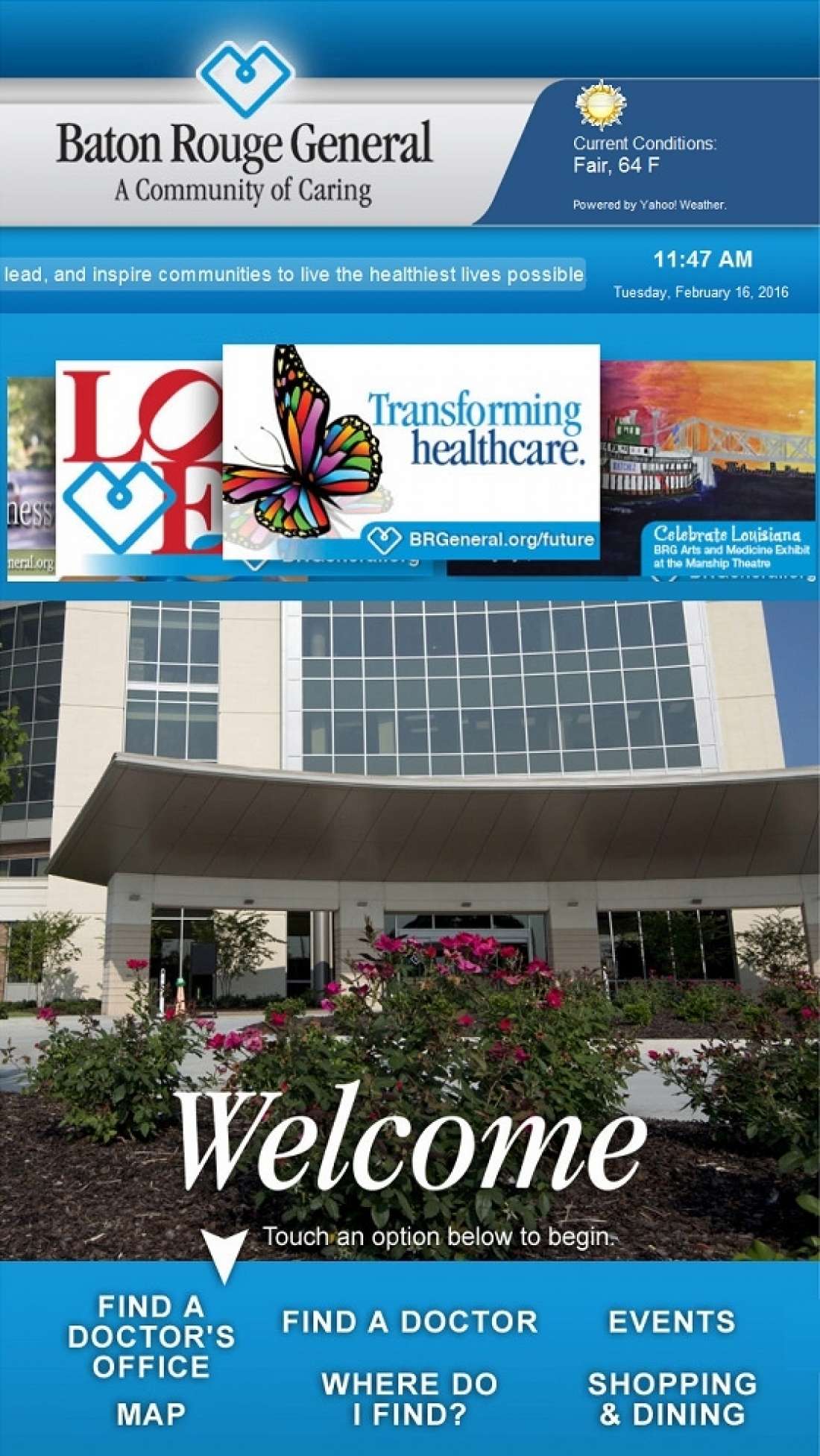 "Hospitals are often criticized as being maze-like and challenging to walk around, but they typically don't start out that way. With additions and renovations over time, they can become quite confusing to the public" says Rick Lipscomb of WHLC. "It is important for hospitals to have a master plan in place to ensure they remain a logical, ordered facility." Wayfinding gives a name to the systems designers use to help people find their way from point A to point B within complex environments. Wayfinding strategies, including signage, are an important component of any hospital master plan.
At WHLC, we have been involved in wayfinding design in many large facilities, including hospitals and airports. Hospitals have a wide range of critical information to convey to patients and visitors: where to park, where to enter, which elevator to use, treatment locations and follow-up destinations such as the lab or pharmacy. In addition to directional information, hospitals often have special announcements they want to share, donors who need to be recognized, plus topical information such as special menu items in the cafeteria that day. Baton Rouge General Medical Center faced all of these issues when they set out, with the help of WHLC, to improve their campus wayfinding plan in 2014.

Provide the right information at the right time
One way in which hospitals are trying to combat signage information overload, is by following a strategy first used in airports. The wayfinding strategy of providing only the information needed to get to next step, is termed 'progressive disclosure' and pioneered in airport terminals. WHLC employed the concept of progressive disclosure in the recent expansion of the BTR Metropolitan Airport. For example, when a passenger gets off a plane, they may eventually need to find a rental car, but first they need to be directed to the gate area, so signage should first direct them towards the exit. Only after the passenger exits through security, do signs direct them to the baggage claim and car rental counters. In their wayfinding improvement plan, BRGMC used this strategy as well. Key hospital entrances were renamed with numbers and symbols to make them easily distinguishable from other entrances. The signage was then updated to reflect this. It proved much easier to direct a patient to Entrance #2 than to "the entrance on the southwest of the building."

It is important that the language used in wayfinding signage be geared towards the people who will be using it. It may make sense medically to put words like Otolaryngology on a sign, but for patients, it is usually easier to direct them to the Ear, Nose and Throat Clinic. Many hospitals, such as BRGMC, are replacing medical jargon on their signs with terms that are easier to understand. In addition to using the right words, signage often needs to convey information to patients who speak a different language entirely. To ensure that hospital signs can still be effective across the language barrier, environmental graphic designers, such as those at the Society for Experiential Graphic Design are designing universal symbols for healthcare environments that will be instantly recognizable around the world.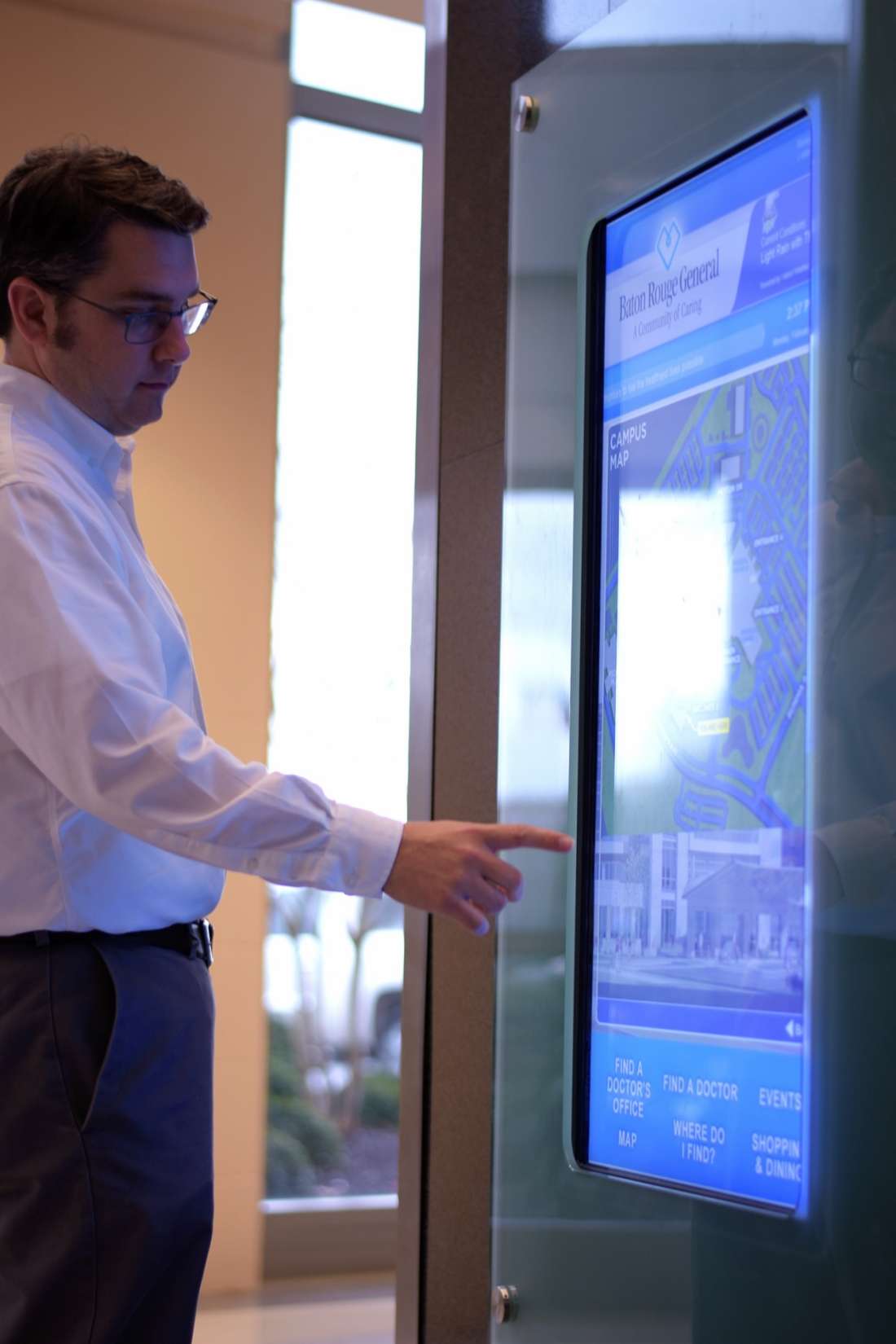 Digital signage a new tool for hospital wayfinding
In a 2014 article entitled "A Cure for Hospital Design", the Wall Street Journal highlighted how digital direction-guiding kiosks and displays are increasingly being used in hospitals as a part of their overall wayfinding plans. These interactive displays provide the patient with information and directions specific to their personal journey in a way that traditional signs have never been able to achieve. A patient can pull up their destination, and the display shows them a customized, turn-by-turn graphical map of how to get to their destination. The directions echo the GPS directions given by most modern smart phones. The software running these displays is not tied to a single display either. Digital wayfinding systems are now part of networked ecosystems that can span across multiple screens and devices providing breadcrumbs of directional information all along a patient's journey. Hospitals can now provide patients with apps to use on their smartphones or computers that mirror the onsite displays, allowing patients to chart a path to their destination from home, before they ever arrive at the hospital. BRGMC installed 13 digital displays as a part of its wayfinding improvements, using a combination of interactive touchscreen displays, and informational displays to complement their other static signs.
"By using the technology and visual aids to help patients find their way, our staff has an opportunity to demonstrate their knowledge, compassion and professionalism,"Barbara Ruiz, Creative Services Manager at BRGMC.
Human interaction and technology don't have to be mutually exclusive
As a society, we are becoming more comfortable taking directions from our digital devices, but there is often a concern that this comes at the expense of human interaction. No digital system is a complete substitute for knowledgeable personnel who can help a patient find where they are going. At BRGMC, however, they have found that the new digital displays often facilitate patient and staff interaction. When asked for directions, hospital staff are able to use the digital displays to show patients where they need to go instead of just giving them a long list of instructions. This interaction also gives the hospital staff a chance to educate the patient on how to use the interactive technology to orient themselves. "By using the technology and visual aids to help patients find their way, our staff has an opportunity to demonstrate their knowledge, compassion and professionalism," says Barbara Ruiz, Creative Services Manager at BRGMC.
Barbara adds that the new digital screens have provided a new faster distribution method for other information as well. The new digital signs allow information to be updated quickly. They also make it convenient to promote additional hospital services, such as the newly expanded gift shop, in ways that were difficult before.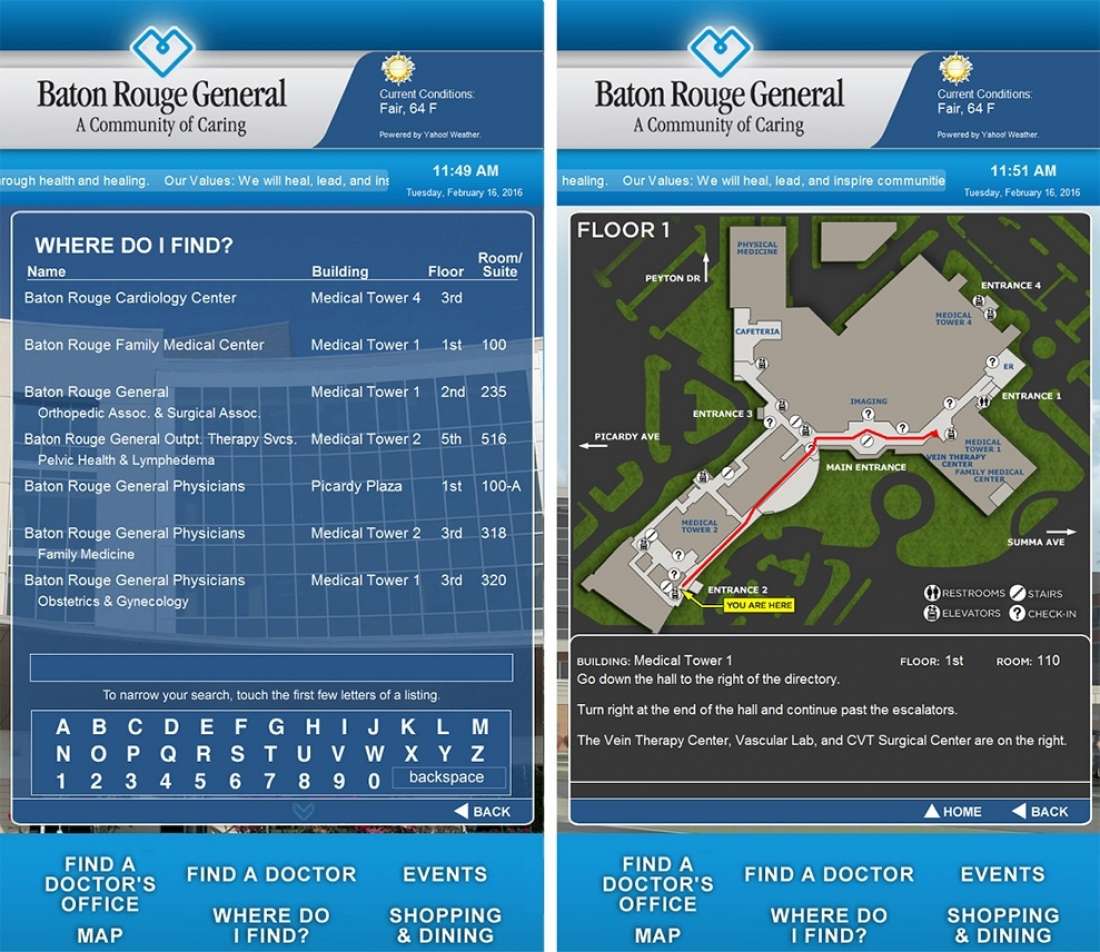 Creating immersive digital environments
Digital media is something we interact with every day, but we are just beginning to appreciate the possibilities of using digital media as an experiential part of the architectural environment. New digital media displays such as those at Boston Children's Hospital and LAX engage visitors on a grand scale, and present new opportunities to deliver content to visitors. Through content sponsorship programs, these media environments are also good facility revenue sources, as is the case in LAX.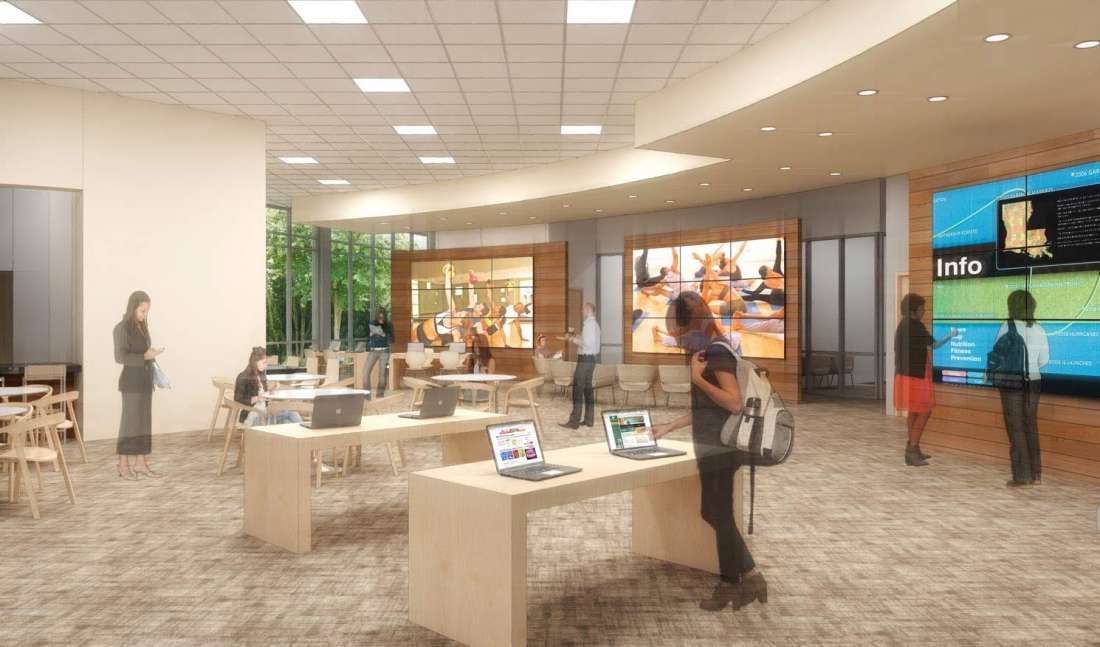 The new Wellness Center at Thibodaux Regional Medical Center, designed by WHLC will feature cutting-edge digital media walls with a total of 27 screens across 3 walls. This new digital media environment will be an impressive way for Thibodaux Regional to communicate their values to the patient with content created specifically for them.